Crush restriction and dramatically heal your relationship with food in 30 empowering days.
Access the first 4 days of videos, guides, and workbooks for free!
Let's create a solution that *actually* works...
FOR YOU!

Introducing the Food Freedom course!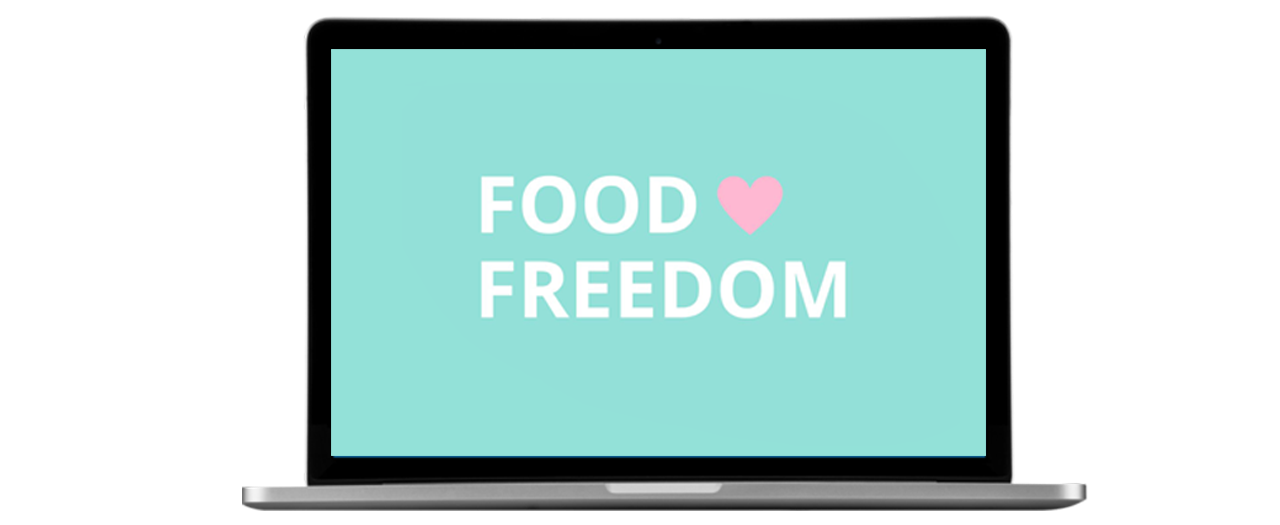 But it's so much more than just a course!! (Trust me, you'll see!)

3 Steps of Food Freedom:
The secret to finding Food Freedom is a specific blend of mindful eating and personal growth techniques.

The 1st step, Honest Awareness, is about understanding what's behind your negative relationship with food. What are the triggers behind your restrictive dieting and self-sabotaging eating habits? Once we know what the root causes are, we can move on to learn how to outsmart the triggers that are making it hard to have a healthy and happy relationship with food.

The 2nd step, Healthy Mindlessness, is all about using your understanding, from step one, to crush food guilt and take back the eating habits that give you peace of mind, happiness, and make you feel amazing! We'll learn how to eat without food rules and learn how to naturally and confidently balance healthy eating and indulging.

The 3rd step, Beyond Food, dives into the best strategies for self care and personal growth. You can't have a lifetime of Food Freedom without creating a life that makes you happy beyond food... so this step is an absolute MUST! The foundations you learn in this step will teach you how to keep the perfect balance of happiness and healthiness for a lifetime.
Through these steps you'll learn how to...
Unstick yourself from your messy relationship with food.

Indulge in things you love without the food guilt.

Prevent one cookie from turning into binge eating the whole box.


Stop feeling like every added calorie is going to make you gain weight.

Free yourself from the binging and restricting mindset.

Passionately love your healthy and happy relationship with healthy food.


Ditch food rules and diet labels.

Feel confident in practicing self care and putting yourself first.

Prioritize what you need most to create peace of mind.

Manage and reduce stress in non-traditional ways, made specifically for you.

Create your version of a healthy diet.

Understand how to handle food sensitivities without restriction.

Keep the balance of doing what you love and doing what keeps you healthy.

Unlock your purpose for creating a healthy lifestyle in the first place.

Find the secret to outsmarting the triggers behind restrictive dieting.

Go out for dinner without worrying about what food you'll be "able" to eat.


Crush your self-sabotaging eating habits by fixing the root of the problems.
and....
How to trust YOURSELF to make decisions that make you happy and healthy in each moment - without stressing about the past or the future!!!
(I love that last one so much!!)
Start Your Food Freedom Journey!